37 Red; for the best things in life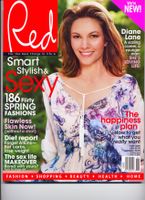 Diane Lane on the cover of Red
Red is a new lifestyle magazine for women by Hachette Filipacchi Media which appeared on news stands in April 2005 with a press run of 300,000. This is not to be confused with another spring newcomer, "Red" a new lifestyle publication that will strive to "engage Dallas' social professionals to continue their quest for an abundant and enriching lifestyle."
This U.S. premiere issue is a "redesigned British import for modern women that really speaks their language." I must be bilingual, because I didn't have any problem figuring out the formula of the usual important issues for women--shopping, fashion, beauty/health, decorating, food, and travel. And the interview with the movie hunk Michael Vartan (Monster-in-law) reveals how deep this magazine goes. His most recently read book is
DaVinci Code
and he watches Animal Planet on TV. In his latest movie he plays a clueless surgeon. What a stretch!
The cover girl, Diane Lane, is 40. Don't recognize her? Me either, but she is Barbra Streisand's step daughter-in-law having recently married Josh Brolin, the son of Barbra's husband. I did a survey at the coffee shop and everyone under 25 knew who she was. The over 50 crowd didn't--we apparently don't see enough movies.
The ads contain a lot of red, stunning, grown-up clothes and jewelry. This is not your daughter's magazine, unless your daughter is the age of mine (37). Even with all the red color, I'm not sure how this magazine will distinguish itself from the other lifestyle choices on the news stand, like Elle. On the masthead, this magazine has an unusual number of women in charge of various departments, or else it is title inflation.
Editor Alexandra S. Postman writes in the editor's letter: "We are single career women and stay-at-home moms, city dwellers and suburbanites. . . we are Diane Lane. . .we are the multiple choice generation. . . we are growing up without feeling old."
Red; for the best things in life
Premiere Issue, May 2005
ISSN: n.a.
Subject: Lifestyle, women
Publication schedule: bimonthly?
Hachette Filipacchi Media U.S. Inc.
16 Broadway, New York, NY 10019
http://www.hfmus.com
$3.99; $12.00 for 10 issues
Editor: Alexanra S. Postman
Art Director: Guillaume Bruneau
Chairman: Gerald de Roquemaurel
President & CEO: Jack Kilger
Labels: life style, Title: Red, women